Pinched Nerves aka Radiculopathy
At Health + Healing Chiropractic in Mississauga, we help people suffering from pinched nerves otherwise known as radiculopathy. Here is some information about a radiculopathy that you will find useful.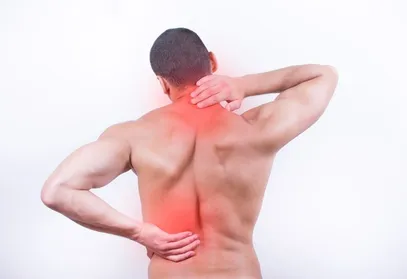 Radiculopathy Overview
Nerves are spread throughout our bodies. They have the important task of carrying messages from our brain and spinal cord to the rest of the body and vice versa.
Unfortunately, radiculopathy is a fairly common problem impacting many people each year. Radiculopathy is caused when the tissue around the nerve compresses it. Tissues that can compress a nerve include bones, cartilage, tendons and muscles. Pressure from any of these can disrupt the healthy operation of a nerve.
For instance, bone or cartilage in a herniated spinal disk puts pressure on the nerve root, causing pain. Nerves that travel through narrow spaces in your body with little soft tissue around for cushioning are more likely to get compressed. Pinched nerves can occur in your neck, lower back or upper middle back.
Common Causes of Radiculopathy
Radiculopathy can result from an injury, degenerative arthritis, excess weight, sports or hobbies, pregnancy, diabetes, and rheumatoid or wrist arthritis. They may be caused from work or hobbies that demand recurring movements of hand, shoulder or wrist such as working at an assembly line. Pinched nerves can also be triggered by staying in one position for a length of time such as a long period of bed rest.
Symptoms of Radiculopathy
Symptoms of radiculopathy are usually associated with a localized sharp or dull pain in the neck or lower back for example, with symptoms referring or traveling down the arm or leg, in more severe cases, causing numbness, a sensation of tingling, and muscle weakness.
A spinal exam can diagnose a pinched nerve. You may need additional testing such as X-ray, CT scan, or MRI to identify pinched nerves.
Pinched nerves are very treatable. When a nerve is compressed for a short duration, the harm is usually short-term. Once the nerve is no longer pinched, it is restored to its healthy functioning. When the pressure on your nerve persists for a long time, it may cause the protective wall surrounding the nerve to disintegrate, resulting in swelling, scarring, and extra fluid buildup. This can lead to chronic pain and lasting nerve injury. The early diagnosis and treatment of a pinched nerve will reduce these negative effects.
Call Health + Healing Chiropractic Today
A chiropractor at Health + Healing Chiropractic in Mississauga can help you if you are suffering from a pinched nerve. To learn more about treatment for a pinched nerve by a chiropractor, contact our office at (905) 916-4325.