Chiropractic for Back Pain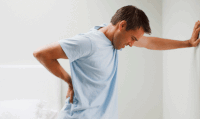 Back pain is one of the leading causes of disability worldwide and economically results in BILLIONS of dollars lost.1,2 Back pain can be caused by a sudden injury or be insidious in nature where the pain slowly increases over time. Back pain is a serious problem because even if the pain goes away, it doesn't necessarily mean that the underlying problem has been solved. The cause for back pain can be linked to one or more of the following factors: the spine itself, discs, ligaments, muscles, organs or the spinal cord and nerves. Referral pain from back pain can lead to shooting pains down the legs called sciatica. The cause for many patients with back pain is a misalignment in the spine that leads to uneven stresses and forces on the joints and surrounding tissues (i.e. ligaments, discs, muscles, etc) which causes pain and inflammation.
Chiropractic can help with your back pain. Chiropractic is a gentle, safe and proven way to help heal your back naturally without drugs and surgery. Based on a recent study, back pain sufferers who went for medical help from a work injury are likely to have surgery 42.7% of the time where as those who first saw a chiropractor had surgery 1.5% of the time.3 The reason for this is because the goal of chiropractic is fix the underlying cause of your back pain rather than to solely treat the pain. This is why chiropractic care is the best method to improve your back health.
If you are suffering from back pain, let us at Health + Healing Chiropractic examine your problem, see if we can help your pain and find a solution to the underlying issue causing the problem. Contact our office in Mississauga at (905) 916-4325.
---
Patient Testimonial:
"I first started seeing Dr. Kong when I was experiencing difficulty in breathing and lower back pains. The care and attention he showed from diagnosing the cause, explaining clearly the issues with my spine to weekly treatment was exceptional. After only a few weeks of seeing Dr. Kong my condition improved significantly and I have only him to thank. I would not hesitate to recommend him to anyone experiencing pains or symptoms of the body." - Kevin C.
---
Peter C. Coyte PhD,Carl V. Asche MSc, Dipger, MBA,Ruth Croxford MSc,Ben Chan MD, MPH, MPA . The economic cost of musculoskeletal disorders in Canada. First published: October 1998Volume 11, Issue 5, Pages 315–325
Darrell J. Gaskin, Ph.D. and Patrick Richard, Ph.D., M.A. Relieving Pain in America: A Blueprint for Transforming Prevention, Care, Education, and Research. Institute of Medicine (US) Committee on Advancing Pain Research, Care, and Education. Washington (DC): National Academies Press (US); 2011.
Early Predictors of Lumbar Spine Surgery after Occupational Back Injury. SPINE 2013 May 15;38(11):953-6